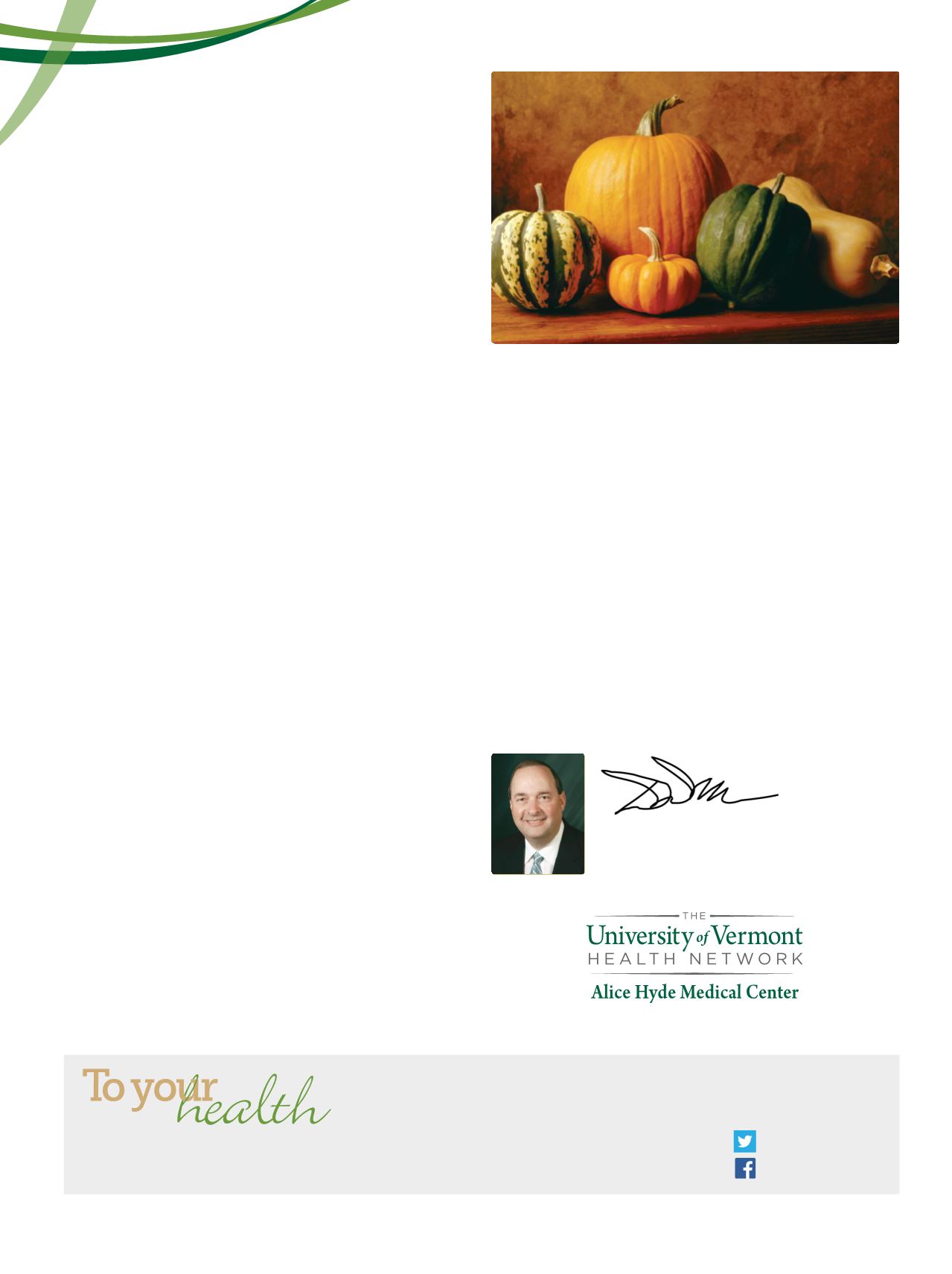 2
q
UVMHealth.org/AHMC
Douglas F. DiVello, MPH, FACHE
President and CEO
TO YOUR HEALTH is published as a community service
for the friends and patrons of THE UNIVERSITY OF
VERMONT HEALTH NETWORK–ALICE HYDE MEDICAL
CENTER, 133 Park St., Malone, NY 12953, telephone
518-483-3000,
alicehyde.com
.
Douglas F. DiVello, MPH, FACHE, President and CEO
Information in TO YOUR HEALTH comes from a wide
range of medical experts. If you have any concerns or
questions about specific content that may affect your
health, please contact your health care provider.
Models may be used in
photos and illustrations.
2016 ©
Coffey Communications, Inc.
All rights reserved.
UVMHealth_AHMC
UVMHealthAliceHyde
Facebook "f"Logo
CMYK / .ai
A new issue for an
exciting new season
It has been several months since we last produced an issue of
To Your Health
, and many exciting things have developed during
that time.
New partnership expands available services
First and foremost, in May 2016, Alice Hyde Medical Center
joined The University of Vermont Health Network. This affiliation
strengthens a long-term partnership between Alice Hyde and
The University of Vermont Medical Center, formerly Fletcher
Allen Health Care, which have been clinically affiliated since
1997. Joining The University of Vermont Health Network is the
next logical step in the development of our relationship with our
regional partners to bring high-quality care close to home. Over
the course of our clinical affiliation, specialists from UVM Medical
Center have come to Malone to offer services. In recent years, we
have collaborated with UVM Health Network–Champlain Valley
Physicians Hospital to bring additional specialists to Malone in the
areas of Cardiology, Oncology, Pulmonology, Vascular Surgery and
Interventional Radiology.
Countless members of our community have benefited from
this affiliation to date, and our patients will continue to see more
advantages as our relationship gets stronger. In addition to the
clinical affiliation opportunities, the hospital will benefit from
greater purchasing and negotiating power, as well as access to
capital resources and enhanced technology.
We also have a new name and corporate logo, and new signs on
our campus to remind everyone of our enhanced relationship with
the UVM Health Network. But with all of the exciting changes and
benefits we enjoy, we will nevertheless continue to be the local
community hospital you've come to know. We will maintain our
local board of directors, management team, workforce, licensure,
medical staff and endowment. We will continue to offer the same
high-quality services with all of the benefits you have come to
expect from Alice Hyde.
Welcoming new talent to our medical staff
So far during 2016, we have added several new providers to
our medical staff, some of whom represent the establishment
of new programs here at Alice Hyde. We have welcomed
John H. Kim, MD, to our medical staff, establishing our new
Gastroenterology practice. Read more on page 6. We have also
added Vladimir Medved, DO, who has come on staff to begin a
Pain Medicine program with an outpatient practice. Long-time
community provider Louise Tichenor, PA, has joined our Pediatrics
practice. We also continue to grow our Primary Care practices.
Marina Medved, DO; Brianne Gravell, FNP; Terri Redmond, FNP;
and Rob Stout, PA, are all new additions to our team. We are
experiencing incredible growth in our Primary Care practices, and
we will continue to work to provide our patients with access to the
preventive services they need to stay healthy.
We look forward to continuing to provide you with useful and
important health information, as well as updates on our Medical
Center. In the future, we will look to transition this newsletter
to an email format. If you wish to provide your email contact
information, please visit
alicehyde.com/newsletter
to sign up.