8 / 8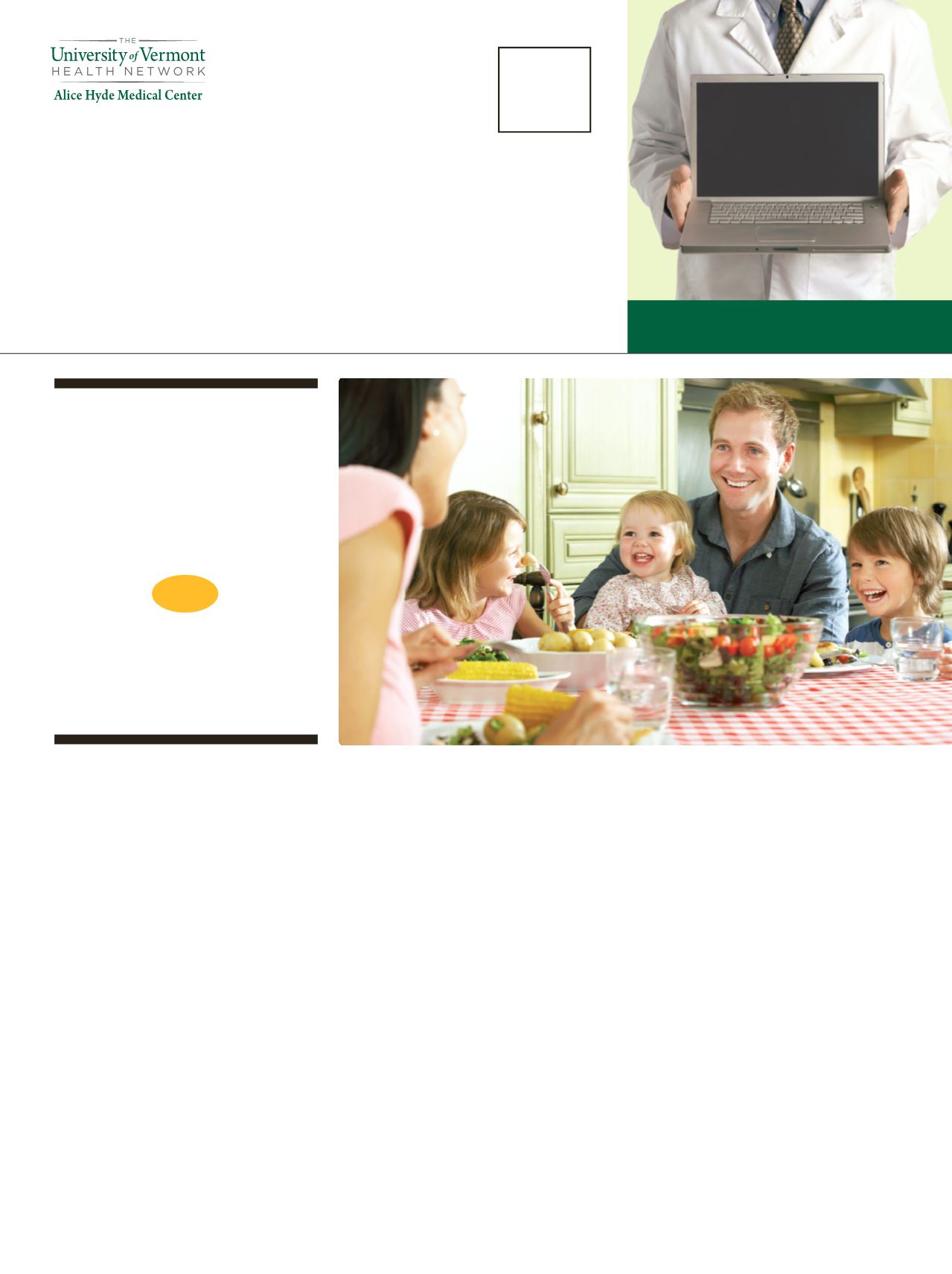 LOOKING FOR
Dr. Right?
133 Park St.
Malone, NY 12953
Nonprofit Org.
U.S. Postage
PAID
Walla Walla, WA
Permit No. 44
Visit
UVMHealth.org/AHMC
and click "Find a Doctor."
IT'S
a fact that families share more
than just quality time together—they
share some unwelcome germs too.
These tips can help your family stay
well.
Practice prevention
The best way to prevent the flu is
for everyone, starting at age 6 months,
to get an annual flu vaccine. Also,
some people—including those with
chronic health problems or people 65
and older—may need a vaccination
against bacterial pneumonia.
While there isn't a cold vaccine yet,
you can remind everyone to practice
these healthy habits:
w 
w
Keep your distance from sick
people.
w 
w
Cover coughs and sneezes with a
tissue or the inside of your elbow.
w 
w
Wash your hands often with warm
water and soap. Scrub them well for
about 20 seconds (about the time it
takes to sing "Happy Birthday" twice).
Use paper towels to dry your hands.
When sickness strikes
To ease cold and flu symptoms:
w 
w
Get lots of rest, especially while a
fever is present.
w 
w
Drink plenty of fluids, such as
water and clear soups.
w 
w
Gargle with warm salt water to
relieve a sore throat, or use sprays or
lozenges.
You also can try over-the-counter
medicines for a headache, stuffy
nose, cough and other symptoms.
However, kids and teens should
not take aspirin—it may increase their
risk for a serious disease called Reye's
syndrome. And nonprescription
cold medicines may not be safe for
younger children.
Also, you can ask your doctor
about antiviral medicines to help you
recover more quickly from the flu.
Most people recover from colds
or the flu within two weeks. Seek
a doctor's advice for a high fever,
illness that lasts for 10 days or longer,
or any breathing problems.
Keeping track of your
family's health care is
easy with our online
patient portal. Sign
up at
UVMHealth
.org/AHMC
.
TIPS
for
families
Stay-well