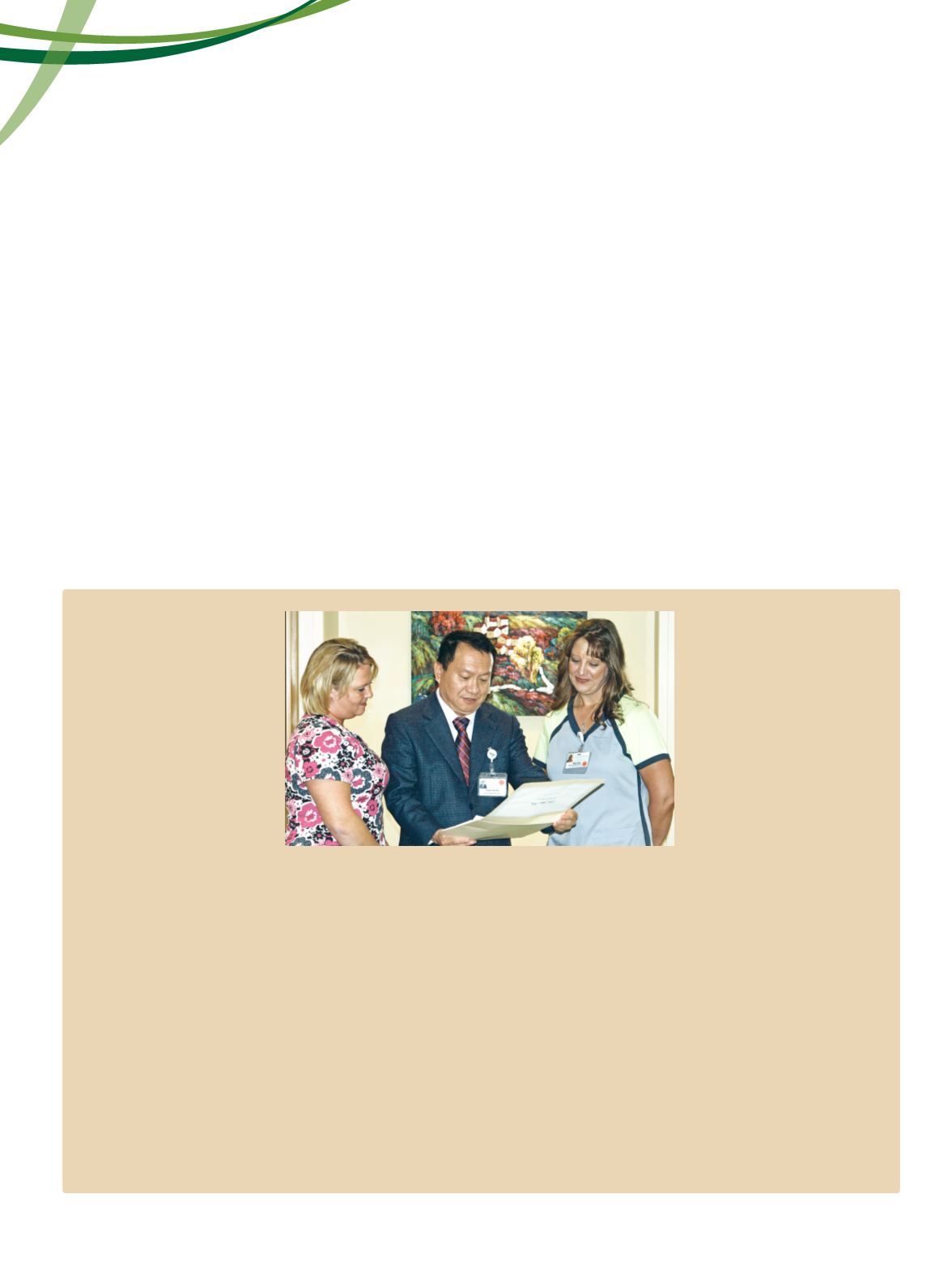 6
q
UVMHealth.org/AHMC
IF
you're having problems with
your digestive system, your primary
care doctor may refer you to a
gastroenterologist.
A gastroenterologist is a doctor
who specializes in preventing,
diagnosing and treating disorders
of the gastrointestinal tract. That
includes the esophagus, stomach,
intestines, pancreas and liver.
Rigorous training
Gastroenterologists are highly
educated. Like other doctors, they
complete four years of medical
school. They then receive three years
of training in internal medicine,
which is followed by a three- to four-
year fellowship in gastroenterology.
They may also become board-certified.
Specific conditions that
gastroenterologists address include:
w 
w
Gastroesophageal reflux disease
(GERD).
w 
w
Stomach ulcers.
w 
w
Celiac disease.
w 
w
Diverticulitis.
w 
w
Inflammatory bowel disease.
w 
w
Cirrhosis.
w 
w
Pancreatitis.
w 
w
Cancer.
Some of these conditions
may also require surgery, which
gastroenterologists don't perform.
But they do work with surgeons to
make sure patients receive the best
possible care.
Gastroenterologists, however,
may perform procedures that
allow patients to avoid surgery.
For example, there are nonsurgical
techniques to remove stones from
the bile ducts in the liver and to treat
certain tumors.
Other procedures that
gastroenterologists commonly
perform include:
Colonoscopy.
This involves a long
flexible tube with a light and camera.
It allows doctors to directly visualize
the large intestine—the colon—for
signs of cancer and growths (polyps)
that can be removed before they
become cancerous.
Endoscopy.
This procedure
involves instruments similar to
those used for colonoscopy. But
they're used to examine and treat
the esophagus, stomach and other
organs.
What is a gastroenterologist?
Welcome,
Dr. Kim
We are excited to announce
that John H. Kim, MD, joined
our Gastroenterology
practice in May of this year.
Dr. Kim has more than
20 years of experience in the
field of gastroenterology. He
most recently served as the
Chief of Gastroenterology
at Flushing Hospital Medical
Center in Flushing, NewYork.
He attended medical school
at Yonsei University College
of Medicine in Seoul, South
Korea, and completed his
residency and fellowship
training at Maimonides
Medical Center in Brooklyn.
He is board-certified in
Gastroenterology and
Internal Medicine.
Dr. Kim specializes in
performing screening and
therapeutic colonoscopy
for the detection and
removal of polyps and for
inflammatory bowel disease.
He also performs upper
endoscopy (EGD) to diagnose
gastroesophageal reflux
disease (GERD), peptic ulcer
disease and stomach cancer.
He is trained in therapeutic
endoscopic retrograde
cholangiopancreatography
(ERCP) to treat biliary
and pancreatic disorders.
Dr. Kim's expertise also
extends to diagnosis and
treatment of hepatitis and
other liver diseases.
"I'm excited to have the
opportunity to develop
relationships with patients
here in the community," says
Dr. Kim. "I really believe in the
importance of listening to
my patients and catering to
their needs. It is important to
me to be available to them,
answer their questions and
make them feel comfortable."
UVM Health Network–
Alice Hyde Medical Center
now offers Capsule
Endoscopy, which is a new
technology used to evaluate
the small bowel. We also have
state-of-the-art Olympus
190 Series endoscopes for
better visualization of the
gastrointestinal tract.
Dr. Kim is accepting
new patients at the
Gastroenterology practice
on the campus of The
University of Vermont Health
Network–Alice Hyde Medical
Center, located at 16 Third St.
in Malone, NewYork. Call
518-481-2401
for more
information, or contact your
primary care provider for a
referral.
John H. Kim, MD, Gastroenterologist at UVM Health Network–Alice
Hyde Medical Center, consults with Cathy Hosler, MOA, and Melissa
Maloney, LPN, about a patient.